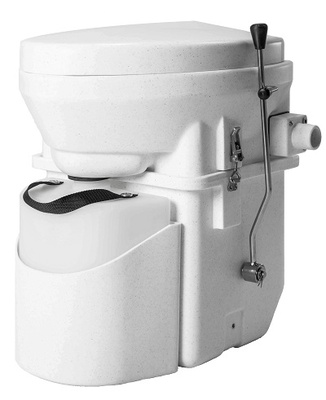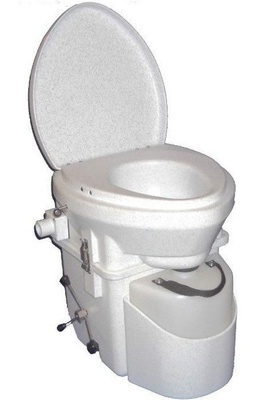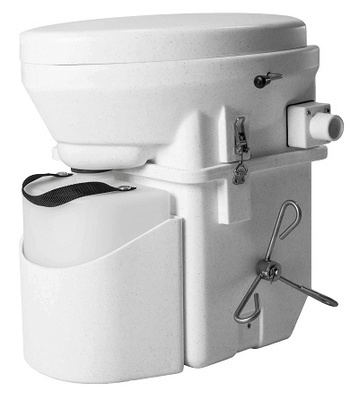 Nature's Head Composting Toilet
Available
---
Product Description
The natures head Self-contained Composting Toilet is a revolution to the Australian market. This high quality compact portable composting toilet beats anything in our market today, not only in quality, but in price. We know, we have been selling composting toilets for over 12 years and are extremely excited about the new opportunities.
If you have a caravan, motor home, boat, horse float, shed or workshop where plumbing and/or underground access are not possible, or otherwise you don't care to go to the expense of plumbing, this is THE solution.
This system is compact
Waterless
Has no holding tank
Odourless
and most importantly, easy to install
and the benefits...this system comes with...
the nature's head composting toilet has a comfortable moulded seat
it separates urine
Has no holding tank
is a rugged marine grade
and has a 5 year warranty
Not to mention it is extremely easy to clean and of course, eco-friendly
Did we mention it fits in those narrow spaces most portables won't go?
Dimensions: 450mm wide x 546mm high and 475 mm deep.
With up to 80 uses before emptying aqnd still remaining odourless, that is quite a feat.
The Nature's head Self-contained Composting Toilet is the only solution for a variety of uses of this quality and anywhere near this price.
Have a look around, and when you come back, know you have made the right choice to buy a Nature's Head Self-contained composting toilet from Enviropro Alternatives.
The Nature's Head Toilet is available with 3 different handles, please make you selection when ordering: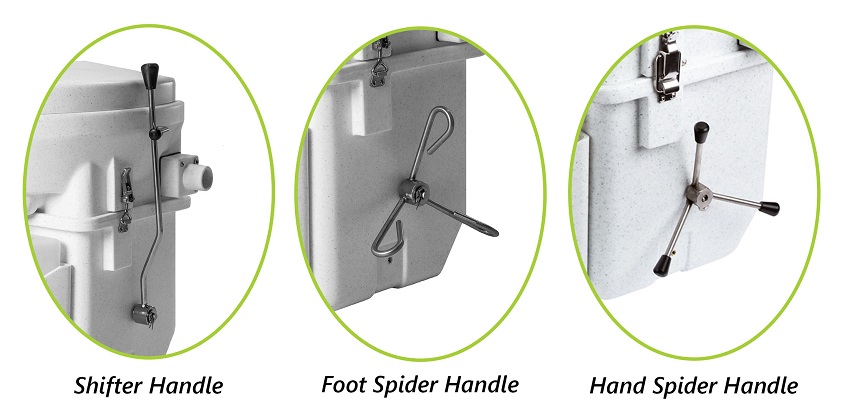 The Natures Head now comes with three different handle options to turn the agitator. There is no need to bend low to turn the agitator, you can use your foot whilst standing, with the foot spider. There is also the option to turn the agitator whilst still seated on the toilet, with the shifter handle. However the hand spider handle option is the only one that has the ability to be installed on either side, the other two will be located only on the side of the flap handle. 
When you purchase a Natures Head toilet, we also provide the following for easy installation:
Vent hose & Flange
Mounting Brackets
Cable & plug for 12v connection
1 x Coir-Peat Brick
1 x 500ml Spray Bottle of Compost Toilet Cleaner Stimulant
Product Information
| | |
| --- | --- |
| Product Type | Nature's Head Toilet |
| Price (incl. tax) | A$1,590.00 |
| Price (incl. tax) | A$1,590.00 |
| Price (incl. tax) | A$1,590.00 |
| Number of reviews | 3 |
Customer Reviews
Removal of original toilet and installation of the Natureshead was the most practical and cost saving renovation to the caravan that I have performed. It has provided me with the ability to wander without worrying about where there maybe a dump site, or when finding a dump site it's overflowing or full. There is no smell associated with use, either inside the ensuite or outside by the vent. It is the way of the future regarding water and it's use, no flushing required. Great design as the unit does not soil when using. Weighs less than the old toilet as the foot print is smaller and no flushing tank or wet holding tank. No water slopping out of full flushing tank when using rough tracks. With the removal of the old toilet I have turned the outside access door into an air and light vent. This has turned the normally warm ensuite in summer into a more pleasant space. Air is now drawn in from the floor and exhausts out the ceiling hatch. We use the caravan for 8 months of the year and in 3 years of using the Natureshead it has proven its worth. Today it still looks like new. Tanya Barnett Albany WA.

Reviewed by Tanya Barnett on Feb. 5, 2018, 3:20 p.m. | Permalink

3 of 3 customers found this useful

Natures head is a fabulous solution for RVs. We have had a Natures Head in our last motorhome and found it to be a much better solution then the chemical toilet it replaced. We have found chemical toilets to be A bit on the nose in the warmer months where is the nature's head is practically odorless all year round. It's also entirely more convenient to empty a lightweight bottle with liquid versus a large heavy canister full of raw sewage. While you could achieve a similar results with a bucket and some sawdust and a urine diverter, The natures head is a very tidy and integrated solution which looks great in place and just works.

Reviewed by Paddy McCann on Sept. 28, 2017, 3:58 p.m. | Permalink

1 of 1 customer found this useful

I bought a natures head compost toilet from you 18 months or so ago which I use full time in a little bus I live in. Its excellent. 10/10. Couldn't praise it highly enough. Not one problem. No smell..ever. Easy to empty, Easy to use. I show it off to everyone J

Reviewed by anonymous on Aug. 28, 2019, 2:04 p.m. | Permalink

This review has no votes.