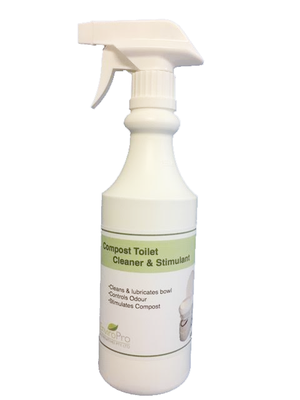 Compost Toilet Cleaner (500ml)
A$16.50
Available
---
Product Description
This product will help keep the bowl clean and prevent build up on the bowl. The product will also stimulate the compost in the collection bin and provide a pleasant fragrance after a person has used the toilet.
How to use:
Before use of toilet, lightly spray bowl which prevents waste adhering. After use of toilet spray any waste, if necessary use small amount of toilet paper to wipe and dispose of into compost chamber.
Product Information
| | |
| --- | --- |
| Product Type | Nature's Head Accessory |
| Price (incl. tax) | A$16.50 |
| Availability | Available |
| Number of reviews | 1 |
Customer Reviews
This product is wonderful. It has a beautiful fragrance & that is all that can be smelt. Our guests comment in surprise & delight about the toilet - composting toilets do have a very bad reputation for stinking - to find one that actually smells delightful is wonderful.

Reviewed by Linda Simpson on May 19, 2017, 11:20 a.m. | Permalink

This review has no votes.